The ZKE Netz V2 application.
As an overarching system, the ZKE Netz V2 application connects our various train monitoring systems (ZKE) to form an integrated monitoring system.
Immediate data analysis carried out centrally is the basis for the networking of the train monitoring systems. The availability of data - virtually in real time - allows any necessary intervention action (e.g. the immediate halting of a train or the imposition of a speed reduction) to be undertaken immediately after a measuring system has identified a defective train. Moreover, the application assists with the maintenance and servicing of train monitoring systems by using a maintenance cockpit.
The benefits.
Augments measurement readings with data from peripheral systems (e.g. train numbers, routes, details of train compositions).
Identifies vehicles via axle pattern recognition and RFID tag assignment.
In the event of an alert, graphical representations of the measurement criteria allow timely decisions to be taken.
Combines the data from consecutive measuring systems so as to produce analyses of trends.
Assists with incident processing for subsequent reassessment of already analysed incidents and for exchanging data with the relevant RU.
Allows immediate assessment of the measurement data and enables an intervention decision to be made, typically within 30 seconds.
Allows alarm limits and alerts to be set specifically for individual vehicles or trains.
Operations are conducted in a protected zone via the SBB data network.
Allows data to be exchanged with the train monitoring systems operated by neighbouring railway companies.
The technology.
Railway IT application developed in accordance with EN 50128.
Data from the measuring systems is supplemented by data from SBB's peripheral systems and assigned to trains.
Highly available and disaster-proof thanks to a redundant structure with two data centres and two parallel reporting channels for alerts.
The procedure.
If the networked system detects that a limit value has been exceeded, the software alerts both the intervention centre in Erstfeld and the operations centre responsible for the particular section of line.
The traffic controller in the operations centre initiates any necessary preventive measures.
The staff member in the intervention centre analyses and decides within 90 seconds whether the alarm is genuine or false.
The traffic controller is informed and initiates the appropriate action.
Any necessary intervention action at the station where the train has been halted is usually carried out directly by the locomotive crew in coordination with the intervention centre.
In the event of natural hazard alerts, the train driver receives an additional warning over the cab radio.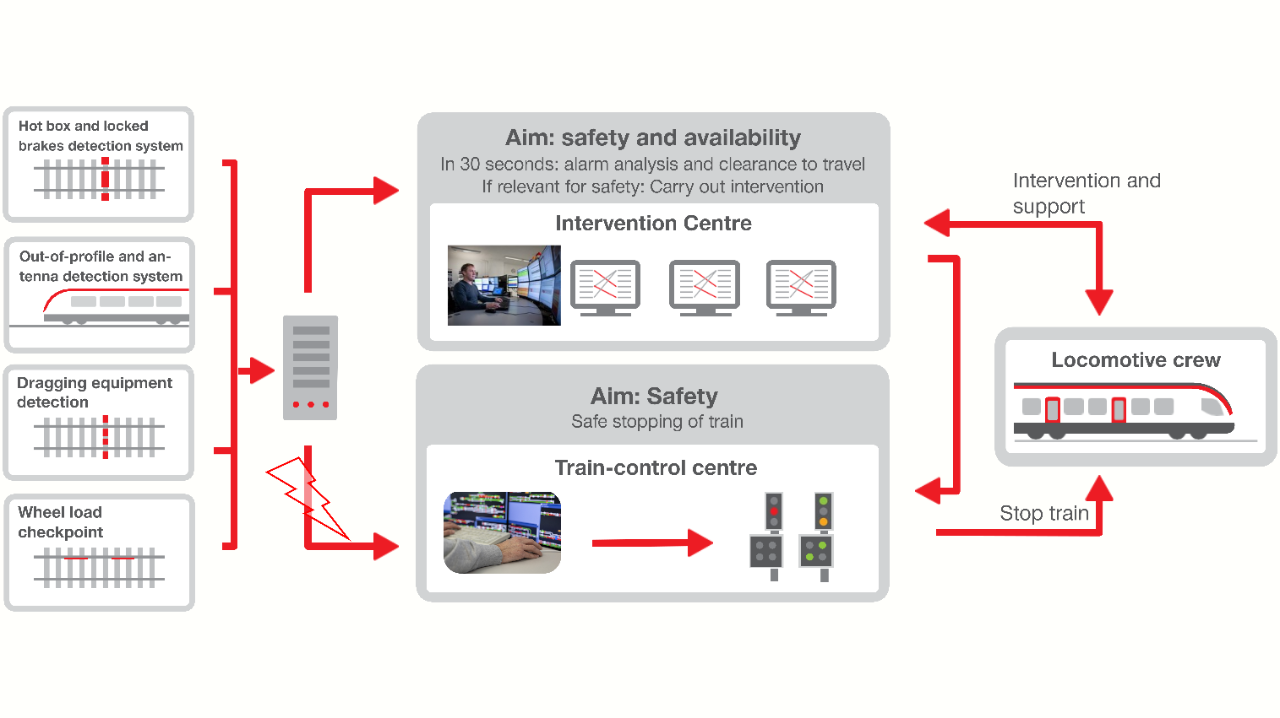 Further content
SBB AG
Infrastructure Sales
Hilfikerstrasse 3
P.O. Box 65
3000 Berne